Craps
If there is a casino game which is older than the card games, it is craps. This game dates back as far as the Crusades age, and by that, we mean the early 1100's. You probably read about craps in all of the classic novels, it has been born on streets. French called it "crapaud", which means "toad" because people crouched over on streets while playing craps. It became a casino game thanks to Bernard Xavier Philippe de Marigny de Mandeville, a politician with a really long name. He was a Louisiana landowner and a famous gambler. He modernized the game, added some special rules and introduced the game to the US casinos. And people loved it – today, craps table is still one of the most crowded tables in casinos.
Latest Craps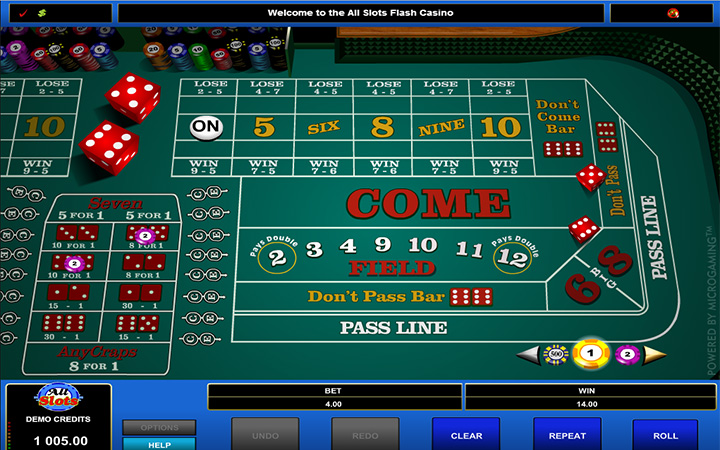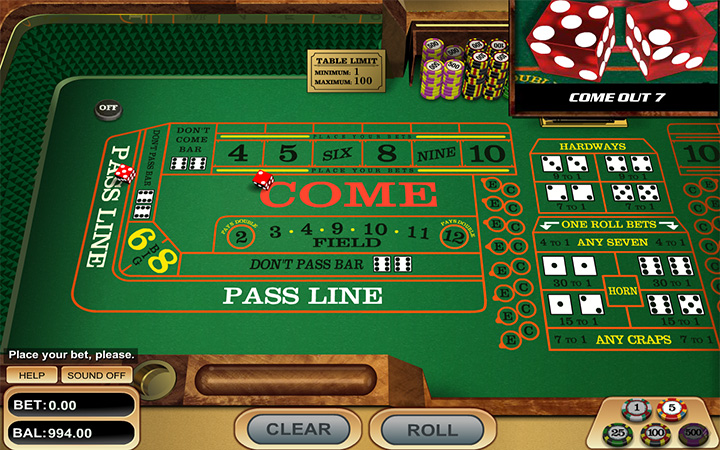 To put it simply, craps is a dice game. Players can wager on the outcome of a roll, of a pair of dice or a series of rolls. They can bet on the casino or another player; both are allowed. Although, some casinos allow betting only against themselves, betting against another player is considered as "street craps" and usually not acceptable in terms of craps etiquette, which we will mention below. The version where you bet against the casino is called "craps casino" or bank craps".
The Basics of Craps
Playing craps is easy enough – if you are playing the "street" version, all you need is a dice and a solid ground to roll. However, the casino version requires some "formalities". The players and the croupiers (casino employees) gather around an oval table, which is referred as "craps table". There are no seats around the table, everybody stands. The table has a layout which displays the betting possibilities of the game. (In some casinos, the paytable is also displayed on the table too.) The player who rolls the dice is called "shooter". You don't need to be a shooter to play craps, as we mentioned above, you can just bet against the shooter in most games.
Any player can join the game anytime, but he must look for the "on" button of the dealer. If this button is "on", joining a game is allowed. If it is "off", the players must wait for the next round to bet. Usually, four different casino employees work at the table, but only the "boxman" is seated. The boxman manages the chips, supervises the game in general. The rest of the employees collect and pay bets.
The shooter has a wide range of betting options. Each craps round has two phases. At phase one, the shooter must place a bet on the "Pass" or "Don't Pass" line. If he rolls 2, 3 or 12, this is called "craps" and anyone betted the Pass line loses. 7 or 11 is called a natural and the Pass line wins. Lastly, 4, 5, 6, 8, 9, 10 or any other options on the table are called the "point" and establishes the number which the shooter must roll before getting a 7. At this stage, the "on" button is blinking and any player can join the game.
At phase two, all bets are closed and other players must wait for the next round to enter the game. The shooter must roll the point number (which is determined in phase one) before rolling a 7. Other players can also bet on the outcome of the dice – at this point, the shooter is betting against the casino and other players are betting against the shooter. As we mentioned above, they can bet on a specific outcome or a series of rolls. Some outcomes pas as high as 31 to 1, for example, 6 - 6.
Craps Etiquette
Despite its street roots, craps may be a very formal game when played in casinos. There are lots of unwritten rules of craps etiquette and all of them are expected to be followed. To give some examples;
While throwing the dice, make sure it hits the farthest wall at the other side of the table. Otherwise, the boxman may call it as a "short-roll" and cancel the round.
Dice can never leave the table. They must be on the eye level of casino employee at all times. This applies for shooting out of the table too. If this happens, a new set of dice must be used.
If the dice hits another player, this is called a "no-roll".
Casino employees cannot touch the players' hands and vice versa.
The casino may ask a player to leave the table anytime, for any reason.
You cannot say "seven". This is considered as bad luck. In fact, most of the outcomes cannot be announced by their numerical values. All numbers (and outcomes) have their nicknames for this reason. For example, seven is a "big red". Or, 2 – 4 is called as "easy six".
The boxman usually announces "dice out, hands high" during rolls. This means "stay away from the table during shooting".
Play Craps For Free
As with many other casino games, there are free online craps games too. These "digital" craps games can be played with real money or just for fun and practice. Play craps for free to understand the game and become the better player. There is no need for a download nor registration. Simply click and start playing directly within your browser. All rules are the same and playing online craps games can really help you out before trying your luck in online or land-based casinos.
How to Play Craps
Craps is a very old game, probably older as the invention of dice itself. For thousands of years, people played craps on streets. Soldiers and sailors especially loved the game – they are probably also the inventors too. As a casino game, it is fairly new when compared to other games and only has a one hundred years old history. But it is also one of the most popular ones: you can always see a crowd around the craps table. It is the only casino game that is mandatory to play while standing up; sitting is not allowed. For this reason, craps tables are always crowded, filled with excitement and adrenaline.
In this article, we will try to answer the most common questions about the game; such as how to win at craps and what are the best bets in craps. But before that, we need to explain the craps rules and how the game works. In the casino version, craps is being played on a specific table. This table looks like a bathtub – it is long and narrow, especially at the far side. The betting options and the paytable are displayed on this table too. The player rolling the dice is called the "shooter". There are four casino employees around the table, but only one of them is important: the boxman. The boxman is the only guy who is sitting in a chair – he supervises the game.
Each round of craps consist of two phases. In phase one, the shooter rolls the dice. The first roll is called the "come out" roll. The possible outcomes of the come out roll and their results are:
If the shooter rolls a 7 or 11, he wins.
If the shooter rolls a 2, 3 or 12, he loses.
If the shooter rolls any other number, this is called the "point" and the first phase ends. All players can put on their bets up until this point.
In the second phase, all bets are closed. The shooter tries to roll an outcome based on the point number.
If the shooter rolls the point number before rolling a 7, he wins.
If the shooter rolls 7 before rolling the point number, he loses. Basically, the shooter keeps rolling until he gets the point number or 7.
Craps Betting Strategy
You can bet on different things in craps. Craps odds and craps strategy differ according to your betting preference. (And of course, craps payouts also differ.) There is no need to be a shooter to place a bet in craps, you can even bet against the player. These are the betting options of the game:
Pass Line Bets: You are betting that the shooter will win the round, as we explained above. Probably the most popular betting option of the game. Anyone can make this bet.
Don't Pass Line Bets: You are betting against the shooter. You can bet that he will roll a 7 before rolling the point number. Anyone can make this bet.
Come Bets: You are betting that the shooter will win the first phase. In other words, you are betting on the outcome of 7 or 11. Anyone can make this bet.
Don't Come Bets: The opposite of Come bets. You are betting that the shooter will roll a 2, 3 or 12 in the first phase and lose. Anyone can make this bet.
Odds Bets: This betting option is only available in the second phase. You are betting on a specific outcome, for example, 6 – 6. This is the option with the highest payout.
Buy & Lay Bets: You are betting that a 4, 5, 6, 8, 9 or 10 will be rolled before the shooter rolls a 7. You are betting on all of these possibilities.
Place Bets: Same as Buy & Lay bets; but, this time, you are betting on one outcome only. In other words, your odds are very low but the payout is much bigger.
Hard Ways Bets: You are betting that the shooter will roll a double dice before 7, for example 2 – 2.
Field Bets: You are betting on that the shooter will roll a 2, 3, 4, 9, 10, 11 or 12.
As you can see, there are lots of betting options but they all depend on the outcome of the dice, as expected. In other words, we need to take a look at the dice probability to determine the craps odds and find the best craps strategy.
The outcome possibilities of the dice are as follows:
| The Total Of The Dice | Probability |
| --- | --- |
| 2 | % 2,78 |
| 3 | % 5,56 |
| 4 | % 8,33 |
| 5 | % 11.11 |
| 6 | % 13.89 |
| 7 | % 16.67 |
| 8 | % 13.89 |
| 9 | % 11.11 |
| 10 | % 8.33 |
| 11 | % 5.56 |
| 12 | % 2.78 |
Mathematically; pass line / don't pass line, come / don't come bets, and the outcomes of 6, 8, 4 and 10 have the lowest house edges in the game. In other words, to make a profit and limit the losses, always bet on these numbers/options. To get an idea about the craps odds and craps payouts, you can refer to this table:
| Bet Type | Odds | Payout |
| --- | --- | --- |
| Pass Line and Come | 251:244 | 1:1 |
| Don't Pass Line and Don't Come | 976:949 | 1:1 |
| Odds | Same as paid | Between 2:1 and 6:5 |
| Buy | Between 2:1 and 6:5 | %5 of intended bet |
| Lay | Between 1:2 and 5:6 | %5 of intended win |
| Place | Between 2:1 and 6:5 | Between 9:5 and 7:6 |
| Hard Ways | Between 8:1 and 10:1 | Between 7:1 and 9:1 |
| Field | 5:4 | 2:1 |
To sum it up, the best bets in craps are Pass, Don't Pass, Come, Don't Come and Field bets.
Craps for Beginners
Play craps online for fun to learn and practice the game. Playing for fun will teach you about the basics of the game and will help you to become a better player, without risking real money. Online craps games are as same as the "real" versions, rules do not differ. You can play for free and without downloading a software, that is why they are called "instant play" games. And when you think it is time to continue in the casinos, you can try your luck at real money craps too.
Play Craps for Fun
Craps can be very exciting when you know how to play them, but many people are intimidated by the game because they have no clue what to do and are afraid to risk their money. Well, what you have to do is learn how to play them! Right here on the Games2Cool website you can play craps online for fun – in a practice mode. You're not playing with real money, just with "credits", so you can feel free to poke around the application, see what each one of your action does, figure out the betting patterns and just plain enjoy yourself!
We have the biggest collection of online craps for fun available online – and best of all, this collection is completely open to everyone who wishes to learn, play and have fun. With Games2Cool, you'll never have to download and install anything, you don't even have to register with us – and, of course, we will not charge you a cent. We have gathered together the very best craps applications from all the developers so you could enjoy them straight from your browser, anytime, anywhere. They're even playable on mobile devices!
If you need a little tutorial to get you started on playing craps online for fun (unless you want to try real money craps), we have that as well! All of our tutorials are professionally written and are very easy to follow, so that the seemingly complicated world of craps will seem easy and straightforward after you finish their few simple steps! For the more advanced gamblers who wish to step up their game, we have sections with insider tips and tricks from the professionals, which will help you with your strategies and give you a deeper understanding of the game.
Playing craps online for fun can be an amazing pastime, exciting and rewarding. Surprise your friends by becoming a true master of this old classic game! And if you feel confident enough to move to the next level, we can help you find a perfect online casino where you will have about as much fun as here, at Games2Cool!
Play Craps No Download
If you want to play craps online, no download required, you will find everything you need in the amazing collection of the Games2Cool website. Our team has carefully curated a list of the best applications, so you can always enjoy a fun game of craps instantly, anytime, anywhere. It doesn't matter what type you prefer, we surely have them all! And maybe you'll try something new with us and fall in love with it as well!
If you feeling like a free craps game – no download is required as long as you play with Games2Cool. Don't wait for some odd software to install, play with us and enjoy your game as soon as you click on its title! You can play free craps, no download and no registration required – only here at Games2Cool. Our collection is the biggest and the most comprehensive, so you can always pick an application from your favorite developer or choose an interface that suits your playing style best. We even have some novelty games mixed in – check them out if you're tired of the same old routine! We pride ourselves on having the best choice around, as well as being the most user-friendly website – Games2Cool is easy to navigate and even easier to enjoy – just sit back and get those dice rolling!
And if you're tired of the free craps game, we can also lead you to the best places where no download online craps are available for real money – the most reputable online casinos, where the gambling is safe and where you'll stand a good chance of actually winning. Also, don't miss our page on the online casino bonuses, including lucrative craps deals – who knows, maybe your chance to strike it rich is just around the corner?